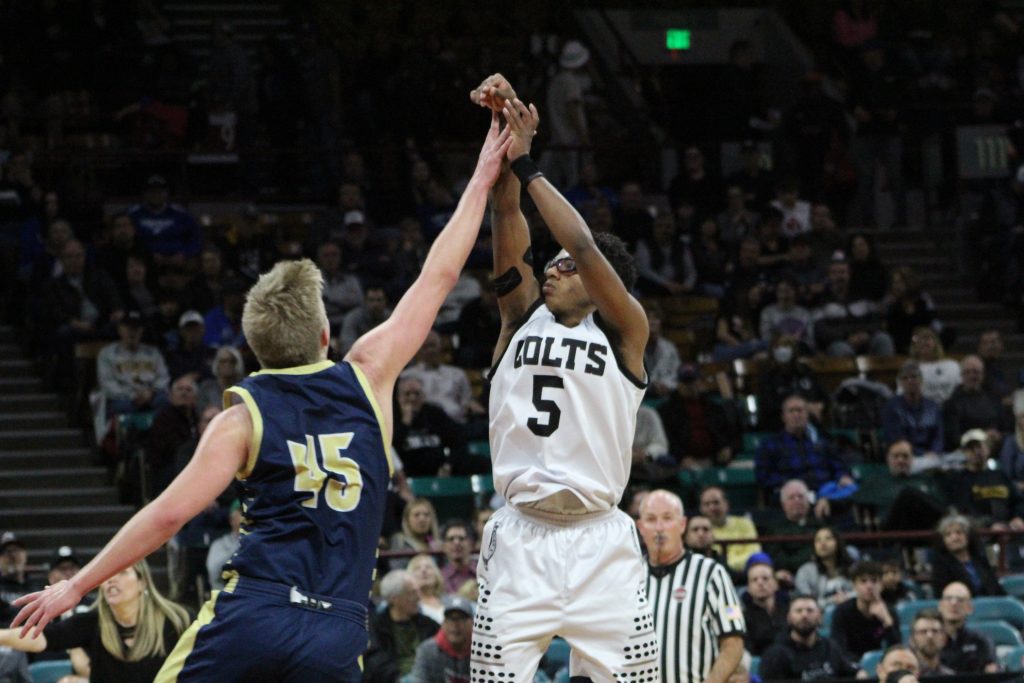 3/11/2022
By Jon Miller
Denver, CO- As teams advance deeper into the state tournament, the pressure increases. Even when sporting a perfect 26-0 record, no team is immune. This was the case for the Pueblo South Colts (27-0) in Friday night's 67-56 win over the Frederick Warriors (21-5).
"We were surprised that we were already here," Pueblo South's Maurice Austin said of the slow start. "I think at first adversity got the best of us, missing layups. Our shooting guard, Ray J Aragon, best finisher that I met, was missing layups so I knew there was something, but he just said adversity."
Maurice Austin picked up his second foul with just under two minutes into the game. With the Colts season leading scorer on the bench, the Warriors took advantage, jumping out to an early 13-8 lead after one quarter.
"We had nerves, missing some layups and they were getting their buckets," Colts senior Tarrance Austin added. "When we saw the score was just 13-8, we were not playing our game, so we said that we have to play better, we got to focus in."
Once the Colts focused in, they showed why they are perfect on the season.
"We started doing what we do. We got steals, open layups and started pressuring up a little bit more," Maurice Austin said.
The Austin brothers, Maurice and Terrance combined for all 20 of the Colts second-quarter points. Not only did Pueblo South get back to their game on offense, but they also clamped down on the defensive end, turning a 13-8 deficit into a 28-17 halftime lead.
South maintained their double-digit lead the majority of the second half. When Frederick applied pressure to the Austin brothers, Jace Bellah, Ray J Aragon, Mateo Esquivel, and Markus Marita were quick to step in and put points on the board.
"Seven of us play on the same AAU team, we know where each other will be. If I am here, you will be there," Tarrance Austin said of his team's chemistry.
Frederick continued to fight but was unable to cut into their opponent's lead as South led by as much as sixteen points in the second half before finishing with the 67-56 win.
Pueblo South head coach Shannan Lane was quick to credit her bench for preparing her team for Frederick.
"We go seven deep, but if it wasn't for all those other kids on that bench," Lane said with a smile. "Because they played these guys and imitated them (Frederick) all week. Number 12 (Jacoby Conway), 1 (Luke Justice), 45 (Alex Sturn), we knew them in and out because we had to play like them!"
The coliseum is known to hinder shooters but once the first quarter nerves dissipated, the Colts turned it into a home away from home.
"We have been lucky because we played at the events center. Our gym doesn't hold (the capacity) so we had been able to host and practice there every day," Lane said. "The events center is just like this so when we walked in, I said we are home. I know we got on a bus, but we just went to another events center."
The #2 seed Colts look to take home the state title for the first time since 2001, when they take on #1 seed Lewis-Palmer on Saturday afternoon for the 4A State championship.
Scoring
Frederick
Bryce Conover 17; Jacoby Conway 10; Matias Aldana 10; Harry Singh 8; Luke Justice 7; Alex Sturn 4.
Pueblo South
Tarrance Austin 25; Maurice Austin 17; Mateo Esquivel 10; Ray J Aragon 6; Markus Morita 5; Jace Bellah 4.
| | | | | | |
| --- | --- | --- | --- | --- | --- |
| | 1 | 2 | 3 | 4 | F |
| Frederick | 13 | 4 | 23 | 16 | 56 |
| Pueblo South | 8 | 20 | 24 | 15 | 67 |