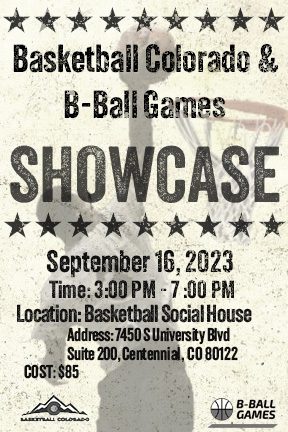 We are different! The Basketball Colorado Showcases are not your normal showcases.
First, we are here to compete. If you want to play in games resembling all-star games with no defense and players that don't want to get after it on both ends of the floor, this is not the showcase for you.
Second, every player will be placed on a team and receive instruction and coaching from a current college coach. Then each player will play in 3 on 3 games and then 5 on 5 games officiated by varsity caliber referees in front of other college coaches. This gives participants maximum exposure and college-level coaching.
We are the only one like it in Colorado!
Participants also get a two-month subscription to BasketballColorado.com
Video and stats will be available after the showcase.
To be considered for an invitation, have your club or high school coach email Info@basketballcolorado.com or Text/ Call 303-968-4127
Schedule
3:00 – 3:30 check-in
3:30 – 4:00 Welcome & Dynamic Warm-up
4:00 – 4:30 Stations
4:30 – 5:35 Group 1 5v5 full-court scrimmage, combine testing, shooting
Group 2 3v3 in arena, shooting, Speaker
5:35 – 6:40 Group 1 -3v3 in arena, shooting, Speaker
Group 2 – 5v5 full-court scrimmage, combine testing, shooting
6:50 5v5 Championship if needed
Colleges Attending
The list will be updated as coaches commit to attending
D2
Colorado Christian
Western State
Metro State
St. Cloud State
UCCS
CSUP
Adams State
JUCO
Otero
Trinidad State
Lamar CC
Western Wyo
D3
Augustana
Elmira College
NAIA